Relaying SHOUTcast Icecast v2
مرکز آموزش

These tutorials walk you through on how to Relaying SHOUTcast Icecast v2 If you require assistance please click below the Live Help Button and one of our Team will assist you.

Relaying SHOUTcast Icecast v2
The Relaying tab contains options for controlling the relaying of your stream by other servers.
Note that these options are used to control the ability of a remote server to rebroadcast your stream.
If you wish to do the inverse, and rebroadcast a remote stream from your server, the relevant options are on the Mount Points tab.

Allow other servers to relay stream
Specifies whether or not remote servers are permitted to relay your stream.

Allow relays to make stream public
Specifies whether or not remote servers relaying your stream are permitted to advertise their relays with directory services.

Video Tutorial -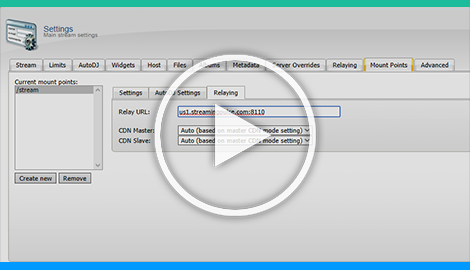 آیا این پاسخ به شما کمک کرد؟